Citi Infant Capsule
by Maxi-Cosi
The Maxi-Cosi Citi is your basic baby car seat and infant carrier that will get you where you need to be, hassle-free!
The Citi is very lightweight. Comfortably padded seat, maximum safety thanks to side protection system and simply fitted with the car seat belt, you will never have to worry about your baby's well-being. The Citi car seat is compatible for use on any Maxi-Cosi stroller, making it a easy to use travel system.
What's impressive about the Maxi Cosi Citi is that it is the Lightest Infant Carrier in Australia weighing only 2.8Kgs compared to others at around 4.5Kgs!
It has a really nice and comfy inlay consequently giving a better fit for a newborn baby. It also has an integrated Sun Canopy rated at UPF 50+ for better UV protection for your baby. For comfort, it also has nice soft padded shoulder harness covers too and the harness is extremely easy to adjust.
In addition, the ergonomic handle on the Maxi Cosi Citi Infant Carrier has been designed to give you even more comfort as a parent whilst carrying baby in the baby capsule.
The hood on the Maxi Cosi Citi cleverly attaches to the handle and is very easily removed with two clips. This makes for easier access when required!
The side impact protection of the Baby Capsule ensures safe travel of the baby.
A common complaint from mums with baby capsules is that they are heavy when you add the weight of a baby. At 2.8Kg's , you will love using the Maxi Cosi Citi Infant Carrier.
The Fabric Cover can be removed from the Infant Carrier so you can simply throw it into the washing machine!
Ease of use
• Install the Citi with 3-point car seat belt in the car
• Light weight infant carrier with ergonomic handlebar for easy carrying
• Cover can be removed from the car seat and is easy to wash and clean in the washing machine
• Cover can be removed from the car seat with dismantling the integral harness

Comfort
• Seat padding for soft and comfortable position of the baby
• Sun protected with the integrated sun canopy

Safety
• Car seat is positioned rear facing in the car for optimal safe travel
• 5-point safety harness
Colours available:
Concrete Grey & Black Raven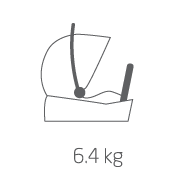 "Add to cart", soldOut: "Sold out", unavailable: "Unavailable" }